Welcome Soldiers!
We return to our development updates for 2021 with a new take for updating you on the important work that's been going on behind the scenes! These new recaps will be showcasing more work in progress from across the team, including detailing any gameplay and feature changes. We'll be delivering these every month to show the progress being made on Beyond The Wire. Our recent article on the road map update showed new weapons coming in February. With this being a hot topic of discussion, we've highlighted this work for the first Development Recap – check out the latest work being completed on the project!
Note: These assets may change depending on project requirements.
Weapons
Modèle 1897 75mm field cannon
The first and third-person animations have recently been completed for the new Modèle 1897 75mm field cannon. The Modèle 1897 will be deployed by the AEF and French Republic artillery crews and replaces the placeholder Feldkanone 96 that has been used by all factions up to now.
FRENCH NAIL
Taking inspiration from the many references of makeshift weapons, we're bringing the brutal Nail Knife to the trenches! A predecessor to the M1916, French forces would modify bayonet blades to craft make-shift Trench knives.
M1916 Knife
Following the Nail was the M1916. This knife became standard issue for the French forces, giving better personal defence for the French Army when engaged in close-quarters. This design inspired other Entente forces to issue their own variant.
Sharpened Spade
A trench rat's best friend in more ways than one! Entrenching tools like spades were often modified and used as melee weapons, being dangerous in multiple applications. Sharpened edges were a common change, making the shovel both heavy and sharp.
RSC 1917
Coming in our next update is the recently completed RSC 1917. This self-loading rifle has 3 and 5 round capacity magazines, making it one of the first of it's kind to go out Beyond The Wire. In the theatre diluted with bolt-actions, soldiers carrying a self-loading rifle have a distinct advantage
Hotchkiss 1914
Our French forces will also be receiving their own HMG, the Benét–Mercié. Now fully textured and ready to rip, this popular machine gun will be arriving in our next update in various forms!
Colt-Vickers 1915
And we're almost ready to bring out the first of the British inspired weaponry as well. The Colt-Vickers was an adapted version of the British Vickers Machine Gun used by the AEF towards the end of the war. Again coming with an option of mounts, the Colt-Vickers will be the main HMG of choice for the American forces.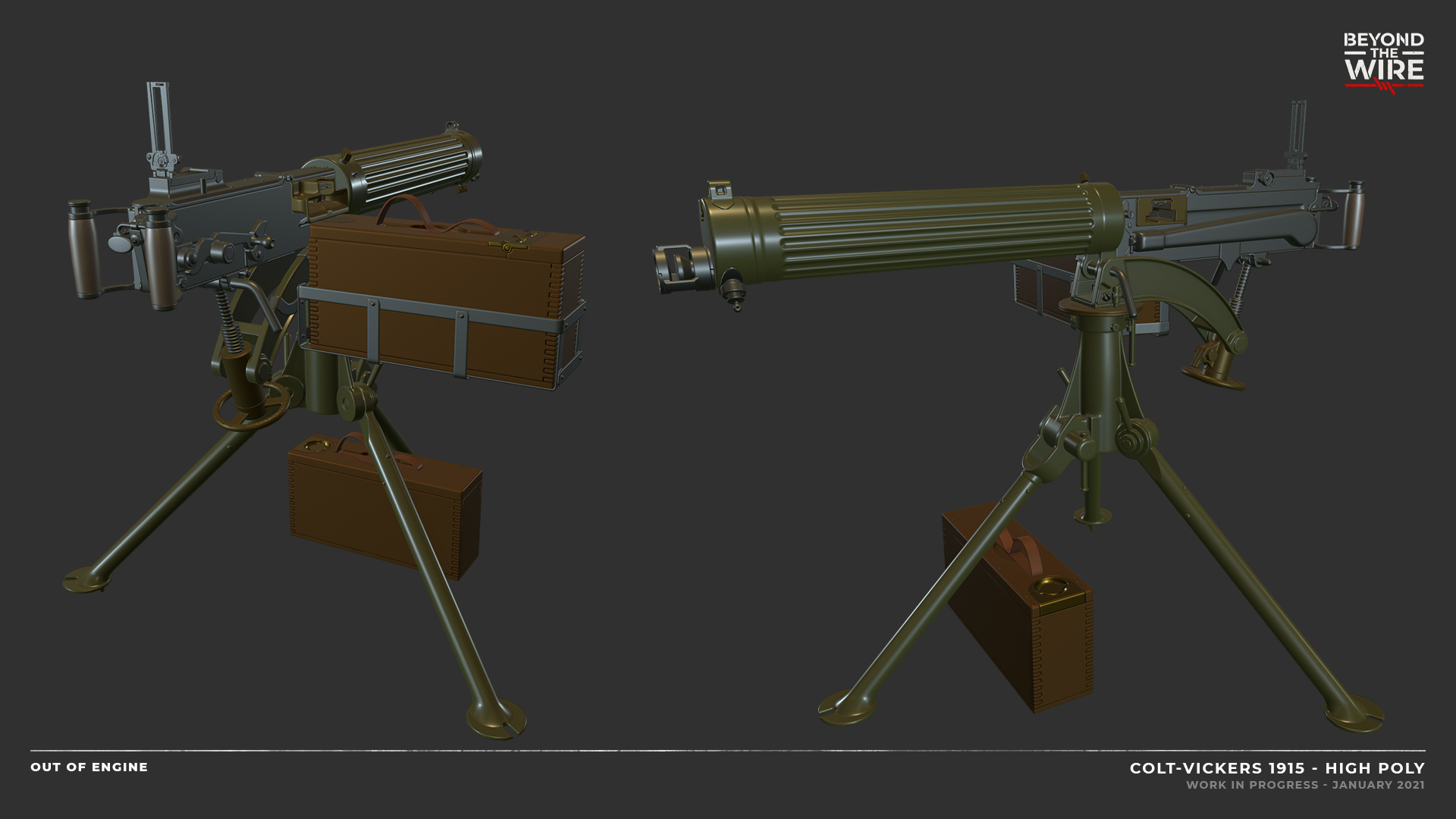 We'll be discussing these additions and the updated roadmap in our upcoming developer livestream. We'll be live on twitch next week so stay posted for news on all fronts. See you then!